Skip Navigation
Website Accessibility
Services
No appointment required!All work is done on a first come first served basis. Turn around times will vary.
See our Price List for full pricing on guitar work or call us at (732) 866-9024.
If you are unhappy with any of our work please let us know.

We unconditionally guarantee all of our work.

Fret Level Crown Polish
– We level and dress frets the old fashioned way, slowly and with care. We do not use the curved fret files you often see, but each fret is brought to a thin even crown using traditional fine single cut triangle files. This approach helps to insure a consistent, precise crown which translates to a clean, even, and clear play. All LCP are finished with a complete inspection & custom setup.
Full & Partial Re-frets
– Neck dynamics our are true specialty. We can re-fret your guitar with a wire of your choice. Thin low profile to super jumbo to stainless steel. We are experts at solving finger board problems and do our best to understand your concerns. Where vintage guitars are concerned, our motto is always "DO NO HARM!" We respect you and your investments. We provide hammer in, modified hammer in and glue in re-frets as need and desire dictates.
Set-ups
– We provide comprehensive, complete set-ups.
Frets and Board
– All frets are block dressed as needed, then sanded & polished to a new condition. The finger board is steel wooled & treated with an all natural conditioning oil that helps the fret board to resist drying and cracking.
Nuts
– String height is checked at the nut & is adjusted to provide for the correct angle & string height. Slots are widened to prevent pinching, binding & creaking.
Strings
– We offer D'Addario, Ernie Ball, SIT, Elixir, & DR. Customers are welcome to provide their own favorite string sets.
Bridge and Saddles
– On acoustics, all saddles are compensated where possible, and sanded to provide for a proper fit in its bridge slot. All pin holes are adjusted to provide for a proper fit, and are ramped so string tension is focused on the saddle for maximum transfer of energy to the guitar top. On electrics, we create the proper radius of saddles to finger board radius. This helps create a feeling of balance and ease of play. We also intonate each saddle using a state of the art Peterson Strobe Tuner.
Neck Adjustments
– All necks with adjustable truss rods are brought to proper relief. Our goal is to provide the lowest possible string height without buzz. All customers are interviewed on playing style so that the overall string height is in sync with your playing style.)
Wiring
– Our philosophy on wiring is neat, clean, and efficient. No bird nest here! You will see a natural flow from component to component. We use CTS pots and switches, where possible. Switch Craft switches and direct replacement Fender and Gibson pots as needed.
Pickups
– We are an authorized dealer of Seymour Duncan, Dimarzio, Luther Lee, Fishman, LR Baggs, Gibson, Bare Knuckle, and Rio Grande pickups. We can provide, as a Gibson and Taylor Guitar service center, direct replacement pickups and parts.
Mobile Service / At Home Service
– Mobile service is available contact us for pricing.
Live Performance Tech Support
– We are available for performance tech support, please contact us for pricing.
Band Instrument Repair
Taylor ES2
– Contact us about up-grading your Taylor to the new ES2 pickup system.
---
Authorized Warranty Service
We are an Authorized Warranty Service Center For:
Gibson, Guild, Epiphone, Cordoba, Kramer, Taylor, & Floyd Rose Taylor Guitar
– We are the only factory trained Taylor Guitar Warranty Center in NJ
NOTE: We do not ship anywhere outside the continental US. We ship to all US states excluding Hawaii and Alaska
Authorized Warranty Service
We are an
Authorized Warranty Service Center
For:
Gibson, Epiphone, Kramer, Guild, Taylor, Cordoba, Floyd Rose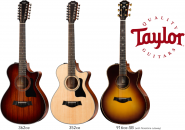 Taylor Guitar
– We are the only factory trained Taylor Guitar Warranty Center in NJ
---